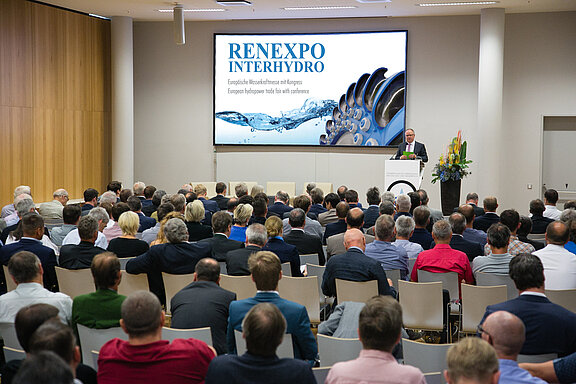 08. May 2019
RENEXPO INTERHYDRO hydropower trade fair in Salzburg for the 11th time
The slogan of this year's RENEXPO INTERHYDRO, taking place on the 28th and 29th November 2019 at Messezentrum Salzburg, is 'Hydropower needs politics needs hydropower'. Over the past 11 years this public access trade fair has established its role as an excellent platform for networking and the exchange of information.
Until the beginning of the 20th century the power of water was mainly harnessed by water mills. Today, hydropower makes a key contribution to safe, sustainable and climate-neutral energy provision, and lies at the heart of the European Hydropower Fair and Congress. The event is held under the patronage of Salzburg's provincial government, represented by the Deputy Provincial Governor, Dr. Heinrich Schellhorn.
Above all, the fair aims to address people with a direct interest in hydropower from all over Europe – from the business and industry sectors, authorities and local councils, to politicians and scientists. Inquisitive visitors and industry experts gain an overview of all the key aspects that make hydropower such an efficient, reliable and storable energy form.
The fair enables widely renowned businesses to showcase an entire range of goods and services required by the hydropower industry. The portfolio includes everything, from manufacturers of Kaplan, Francis and Pelton turbines, generators, sealings, pipes and other plant components, power plant control systems, plant construction, maintenance and optimisation, measuring and regulating technology, electricity trading, to e-charging stations and direct marketing – and from long-serving established family businesses to international companies.
On Thursday and Friday at this year's congress, the issues to accompany the exhibition will be current practical experiences and projects, energy storage, small-scale hydropower plants for E-charging stations, and water ecology-compatible hydropower expansion. International markets are also to be showcased this year, with the 3rd Eastern European Hydropower Forum and the 3rd 'Hydropower in Africa' seminar. Italy is the partner country at the fair, and Italian exhibitors present products and inform visitors about the latest technologies and challenges.
The fair and congress provide a comprehensive overview of new technologies, political frameworks and conditions in Europe, and the future of hydroelectric power.
The international hydropower associations' pavilion in the Hydro Lounge is a proven networking hub at the event. Various associations provide information about their activities and developments. It is a meeting place to discuss the future of energy provision and the solutions it demands. In order to cooperate more effectively in terms of shared interests, and to strengthen the hydropower sector throughout Europe, the organisations involved at the 4th European Associations' Congress come together to debate the current political situation.
On both show days expo visitors can attend the Hydroforum in hall 10 and enjoy a varied programme featuring talks, presentations and discussions on current issues within the industry.
For more information – go to: www.renexpo-hydro.eu
Your press contact

Denise Müller
Marketing & Communications
Marketing & Communication Manager