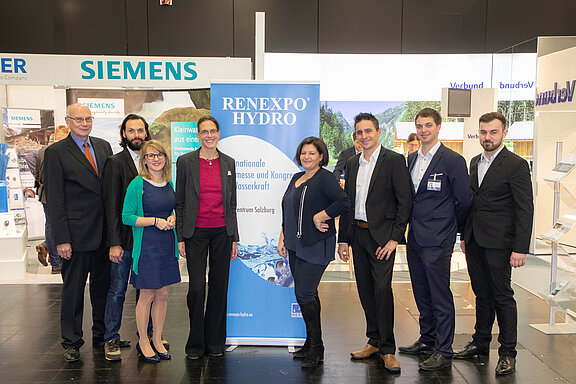 21. November 2018
RENEXPO INTERHYDRO hands over Europe's meeting place of hydropower to the Messezentrum Salzburg GmbH
A few days before the start of the European hydropower trade fair and conference RENEXPO INTERHYDRO, which takes place for the 10th time in the Exhibition Center Salzburg on November 29th and 30th, the former organizer, the REECO Austria GmbH based in Salzburg, has agreed to smoothly handover the project to the Messezentrum Salzburg GmbH.
"At the age of 64 years it is time to settle the succession. A family-internal solution has unfortunately been eliminated. With the Messezentrum Salzburg GmbH, with whom we have been working together for more than 10 years, I have found my ideal partner. The exhibitions center is the perfect location for the hydropower event and they operates similar to us - with short decision-making channels - and they have already secured our skills and our participation for the next two events." said Johann-Georg Röhm, Managing Director of REECO, when asked why this transition was agreed with Salzburg right now and why.
Michael Wagner, Managing Director of the Salzburg Exhibition Center, affirms: "We are very pleased that we can continue to deepen the knowledge that we have acquired accompanied by Mr. Röhm over the last 10 years about this platform.The topic of hydropower is not only socio-politically important, but also of particular importance in the province of Salzburg and the whole of Austria! Accompanied by the current project team, we feel well prepared for the new role as organizer of the RENEXPO INTERHYDRO. "
During the signing of the contract in Salzburg in mid-November, the two managing directors emphasized that they are aware of the high significance of this trade fair for the European hydropower industry. Everything what has to be done to make the transition as seamless and gradual as possible will be accorded by both managing directors.
REECO Managing Director Röhm and the former REECO PR specialist, Miriam Hegner, will therefore continue to contribute their many years of experience to the organizational team around the Head of Department Michaela Glinz from the Messezentrum Salzburg in 2019.
The next RENEXPO INTERHYDRO will take place in 2019 on the 28th and 29th of November.
Get all information here!
Images may be used free of charge.
Your press contact

Denise Müller
Marketing & Communications
Marketing & Communication Manager